Download KateBot CS Global Offensive Hacks Internal External KateBot Hack
If anybody wants to express their gratitude, they can buy me a coffee. Click on the button below!
|
Buy me a coffee
Internal/External KateBot
There's no more Offset Dumper for KateBot and offsets in Config.ini , those are automatically scanned when the game updates.
DO NOT USE THIS CHEAT IF YOU DON'T (WANT TO) FOLLOW THE INSTRUCTIONS. You will be banned (vac/untrusted banned)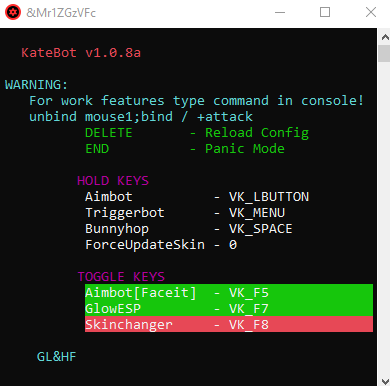 Instructions 28.04.2017
[B]1. Copy "Config.ini" in to dir: C:\KateBot\Config.ini (create a folder KateBot)
2. Close CSGO and Steam (check task manager just to be sure that you don't have any steam process still running)
3. Open Extreme Injector v3.7.3 -> Extreme Injector v3.7.3
4.a)Go to Settings and make how on screenshot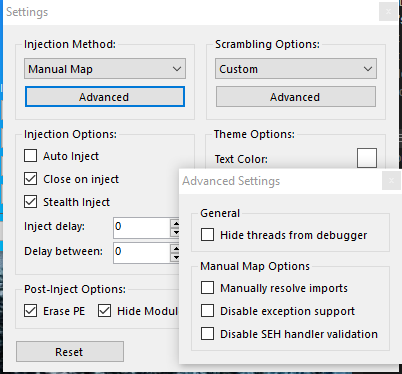 b)Now Open Scrambling options and Setup All without "Create new entrypoint"

5. 5. Open Settings again and press "Start in Secure Mode", wait for restart
6. Select any x32 process in "Process Name:". I use WinHex (WinHex is just for example, don't close the program.. let it open)
Don't inject in to CSGO, you will be BANNED!!!
7. Press "Add DLL" and select "KateBot.dll"
8. Press Inject. Injector itself is closed, if not closed, close it manually!
9. Enjoy
Tutorial Video

Notes
All of the features are customizable from Config.ini , the current settings are pretty legit.
Please report any untrusted / vac bans with a screenshot.
You need the target program (x32) opened.
For minions, again do not close the cheat for the following reasons: Outdated , Detected , only when i will ask for it (i'm active and as soon as something is not going well i will mention or pm one of you)
DO NOT INJECT IN CSGO AND BE SURE YOU HAVE STEAM CLOSED (VIA TASK MANAGER, end every program that's from STEAM) or you will be banned.
The keys can be changed via https://cherrytree.at/misc/vk.htm
The cheat is already public and used without any reports of ban except untrusted that were because of the incorect injection.
Do not use trigger on 0 delay. Above 0 only
Do not inject the cheat with steam running! Besides that you can get banned you will get the VAC ERROR.
If you have problems with your aimbot , your crosshair moves up in air please enter Code:
m_rawinput 1
in csgo console (`).
For triggerbot type the follwing in your csgo console (~/`) :
Code:
unbind mouse1;bind / +attack;bind mouse1 +attack
//Currently useless 1/5/2019//
VAC ERROR (You can't play on vac secured servers however you're not banned) FIX:
Code: 1. Close all of the steam processes (via task manager) 2. Open CMD as admin and type in: bcdedit.exe /deletevalue nx 3. Should say Operation successful, if you can't change the command and says something about SecureBoot , search on google – How To disable Secure boot YourWindows (change YourWindows to your windows like How to disable Secure Boot Windows 10) – If is already deleted and you can't find the command just restart your pc 4. After restart start STEAM and CSGO then wait 15 MINUTES in csgo main menu without doing anything! 5. After 16 MINUTES try to play again.
To Prevent: Make sure you don't have any steam process running while injecting the cheat.
GlowESP.OnlyVisible.Enable = false -> for Glow (normal glow), and GlowESP.OnlyVisible.Enable = true (glow effect, you can't see them through walls)
GLOW EFFECT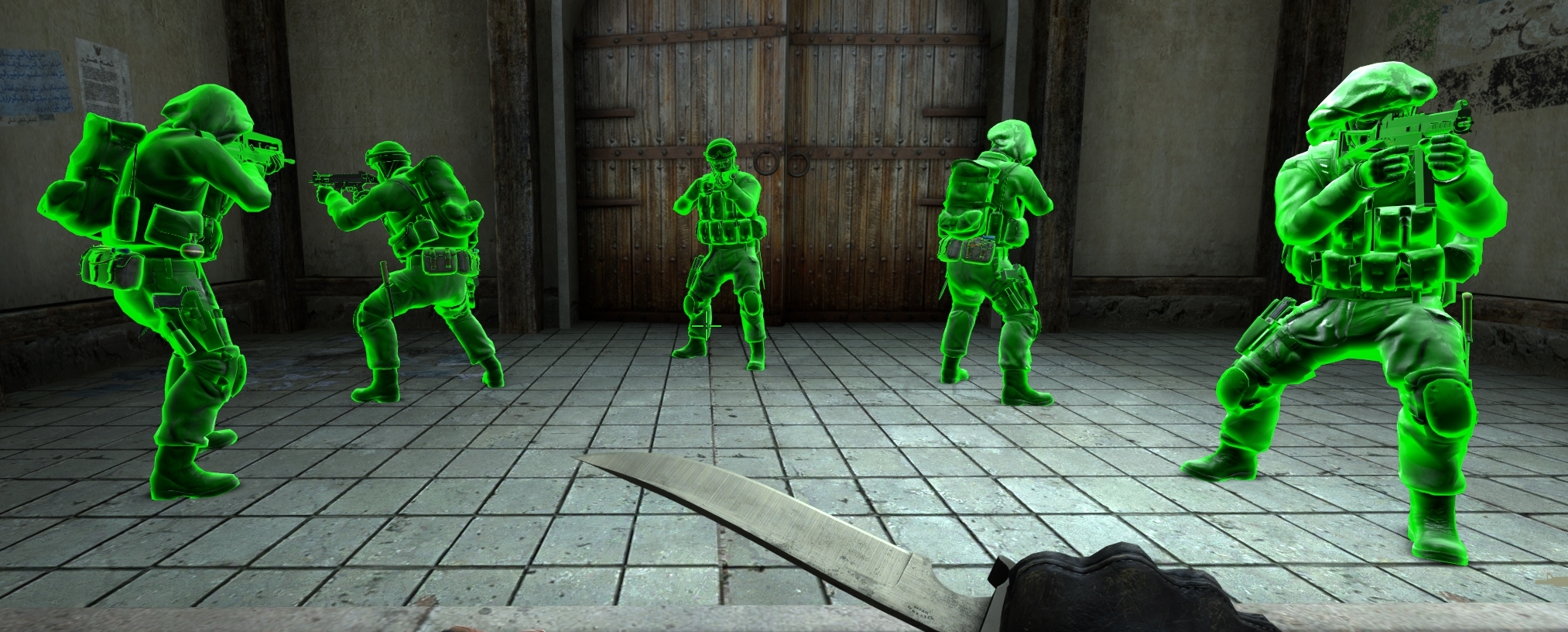 NORMAL GLOW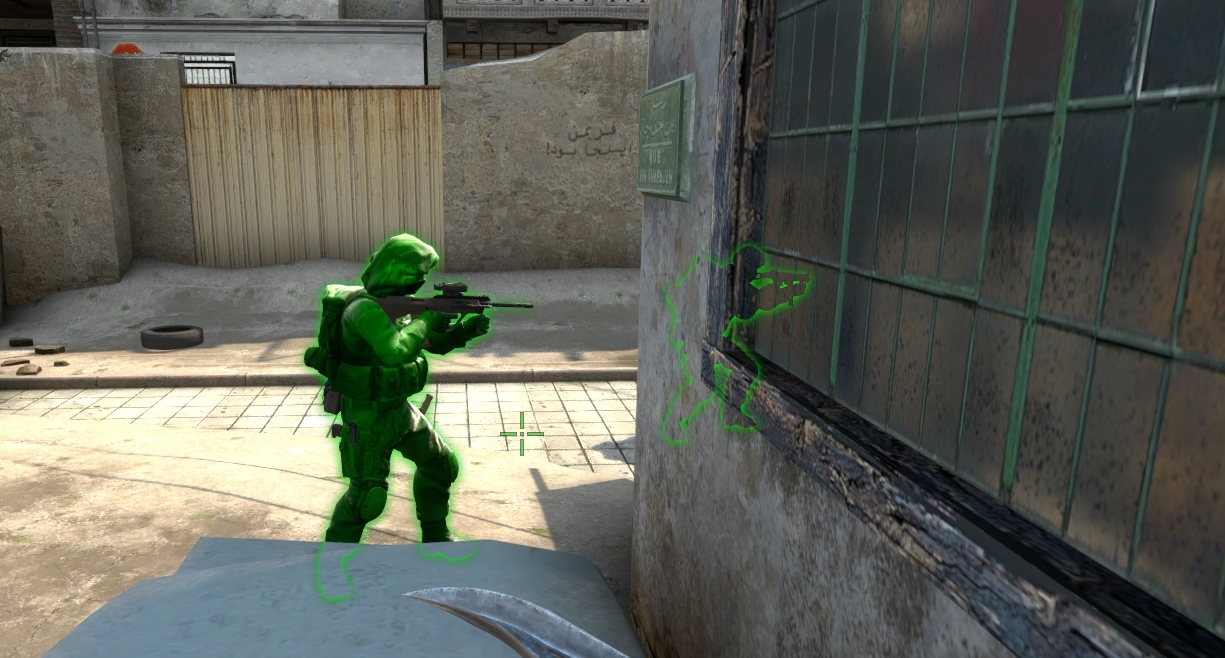 BONES ID


Buy Me A Coffee, Click on the Button below to Donate and help use towards Hosting Files so you can get Free Content 4ever, Thank you.