EAC Reborn v2 – 2.7.1 bypass (in-depth) [USE AT YOUR OWN RISK]
Before i start this i must make this clear: I am not the owner, the op didn't have good instructions so i'm making this text guide
ALSO DO NOT CREATE LOBBIES WITH THIS — AND WHEN YOU ARE DONE WITH THE BYPASS RESTART YOUR PC
Youtuber:
Refer to this video for a video guide however this text guide SHOULD explain everything.
Manual EAC Bypass – Reborn v2
Prerequisites:
PChunter – https://www.bleepingcomputer.com/download/pc-hunter/ (safe)
Process Hacker 2 – https://processhacker.sourceforge.io/downloads.php (safe)
1. Rename PCHunter64.exe to something random like "bb.exe"
2. Open it once, then close it
3. Restart PC,
yes this is important
Setup:
1. Once your PC has restarted open the renamed PChunter
2. click "kernal module"
Side note: if you scroll to the bottom you should see "[pchuntername]as.sys" then you've done it right.so if you named your PCHunter64.exe to something like "bb.exe" then it should say "bbas.sys"
3. run "inject.exe" as admin, wait a few seconds then hit enter on the popup
4. right click anything in the "kernal module" section of PChunter then hit REFRESH
5. Scroll to the bottom you should see "WinD64" – right click it then hit "Unload driver"
6. Right click "[pchuntername]as.sys" and then click "Unload Driver"
7. close PChunter entirely
— the initial steps are complete
Process Hacker:
1. open "Process Hacker 2" as ADMIN
2. a new box should pop up.. near the top it should say "System"
3. another new box should pop up. click "Threads"
side note: after you click threads if every thing is moving
around then just click "Start address"
Bypass steps:
1. Open Dead by Daylight — good to have it on windowed mode.

2. Let it load entirely, until the point where it says
"press space to continue"
side note: you can and should skip the cutscene.
also if you accidentally go past the menu screen just restart dbd.
3. On the process hunter threads section, scroll down a bit until you see "EasyAntiCheat" things under the "start address" section

4. Highlight them all by clicking them all individually while holding "CTRL"

IMPORTANT NOTE: This is where it gets tricky as it is quite random, sometimes it takes ages for EAC to notice the bypass or it can be instant.
5. Right click the bypass.exe, run as admin…
side note: depending on your settings a box should appear
to ask "yes or no" — for most people this should happen
as default

6. AS SOON
as you click "Yes" on the popup.
right click the highlighted "EasyAntiCheat" threads and hit suspend
Important note: This highly relies on speed but still sometimes it will instantly crash DBD
Side notes:
— this can take a lot
of trial and error
— but don't worry if you do mess up and it gives you errors
you won't get banned just restart from step "1." of "Bypass steps" section

Important note: If you ever crash and steam says it's still running (for a while) then simply right click the threads and hit "resume"
7. If all goes to plan the threads should be a navy blue and suspended and your game isn't crashed

8. now you can hit space to continue and connect Cheat Engine with no issues.

Have fun 🙂

Common Errors:
1. Access Denied
when trying to suspend
the EAC process.
Fix:
Run Process hack as admin
.. Or if your computer is slow
, when you run the bypass.exe wait for the box to pop up.
2. Driver error
when opening PCHunter
Fix:
Try using the PCHunter32.exe
version or fully restart
your computer.
if neither of these work try re-download PCHunter from a different source.
Solution for those of you who experience "Load Driver Error" error.
You need to enable Kernel Va Shadowing. Two ways to achieve this:
1. Download the tool called "inSpectre" and enable both Meltdown and Spectre protection, restart PC after.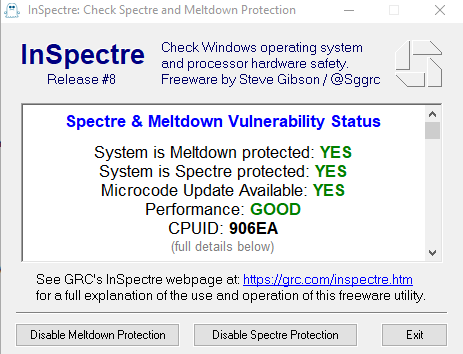 2. Open regedit, go to Code: HKEY_LOCAL_MACHINE\SYSTEM\CurrentControlSet\Control\Session Manager\Memory Management
and delete "FeatureSettingsOverride" and "FeatureSettingsOverrideMask" then restart your computer.
https://www.virustotal.com/gui/file/…a47d/detection
Credits to @eka01 for bypass.